January 12th, 2009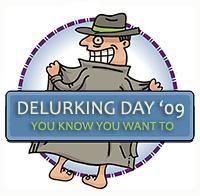 That's right. So, let this be an invitation to anyone who'd like to introduce themselves and say hi. You know I'd love to hear from you. No pressure, of course, but you may as well delurk on Delurking Day, right? Come one, come all. Get a conversation started. I'm all ears.

This was a great day for me. I made some real progress on the next update, and there was RL good news all over the place. I was asked to interview for a job that had over 50 applicants and was pleasantly surprised to be offered another job that will stretch my experience significantly. I was also asked to be a bridesmaid in my "brother"s wedding this summer (actually a cousin, but we grew up together like siblings). I'd fully expect to win the lottery too, but I don't actually ever buy tickets.

Now, I should go out there and delurk too, shouldn't I?
Did you know that today is Delurking Day out there in the blogosphere?